Dako wrote:

Part II

Some very interesting replies so far. Let's follow up on some of these responses, and dig a little deeper into the mind of a philosopher... Fashion is thick with philosophy; for those with the inclination to understand the history and references. Do you have a favorite fashion house or designer?
We
are
what we wear/portray to the world, for first impressions are everything, and we are continuously being judged on that basis when we meet new people.
I like what Costume National and Marni are doing at the moment, and I have a few of their pieces that I wear when I'm out'n'about - I also have a soft-spot for Fornarina and Diesel.
...but my biggest weakness is shoes/boots

for they can make or break any outfit...
Quote :

Socrates called it his daemon. Are you affected by visions?
Yes.
...and I see them as a burden rather than a curse.
Quote :

And on the same note; over the years, not a few ephilosophers have ended themselves up in insane asylums. Can this be avoided? Is the importance of going right up to madness really so important for philosophers, or is this a romantic notion?
Sure, but this can be avoided by not taking one's-self too seriously, and by expressing the self through living and not just in one's head - I guess that one can only learn what balance is by experiencing both sanity and insanity, and then finding one's niche somewhere along the scale.
I am of balanced mind, but it's my aggression I find myself wrestling with to get under control...

Quote :

So the image of the withdrawn and ascetic philosopher is something of a misnomer?

There seem to quite a few alcoholic ephilosophers. Are drink and drug necessary for a philosopher who wants to go beyond the mundane?
Not a misnomer, no, for one image (partying) does not dismiss the other (ascetic).
I don't think that they are a prerequisite for making a good philosopher, but they certainly help break-up the boredom that life offers up from time to time, and we then get a welcome reprieve

I don't do drugs, but I do 'do' alcohol

the trick is knowing when to stop

Quote :

Is it ever possible for someone to walk away from the philosophy bug. Or is it more like herpes, once you've got it, it's for life?
We
live
philosophy whether we know it or not, so it will always be part of us/our life...
Quote :

Many of your readers will know that you are not white. And you are not a man. Has this affected your philosphical development?
I am Caribbean and female, yes

At first, yes, I found that others hindered me by limiting me due to stereotypes of non-whites/females - booooring

I don't have to debate from the stance of ethnicity/gender, but that was what others expected of me/presumed I would do, but life gives us experiences way beyond that of ethnicity and gender

Quote :

What is 'Vase in Abstract' about?
It's a piece I created for my art A-level, and of which I was highly commended for - it's a chalk/charcoal/grey pastel representation of a 3D sculpture that I created from two photocopies of a Picasso original: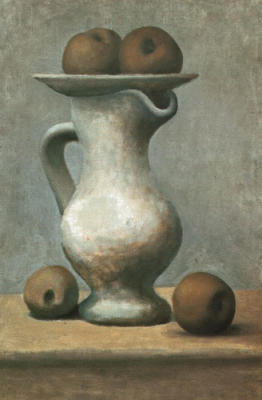 which I spliced in half, and made into a 3D paper sculpture, which you now see immortilised before you as a 2D representation of the initial 3D sculpture:
'Vase in Abstract'

There are two more pieces which complete the 'Vase in Abstract' series: a chalk and charcoal sketchbook version, and a blue gouache and pastel A0 monstrosity of a piece.